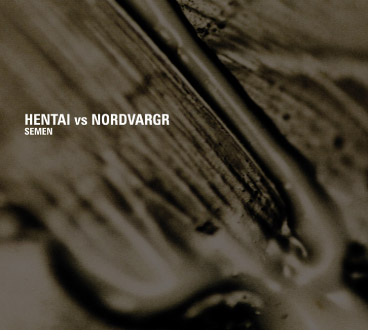 Hentai vs Nordvargr
Semen
CD digipack / vital 003 / released April 2006
Semen is a collaboration between Jakob Nybo / Henrik Nordvargr Björkk recorded winter 2005 - early 2006 at Vital Room and Villa Bohult. Mastered by J. Ulvtharm / Nordvargr MZ.412 at Nar Mattaru Studios.
Hentai and Nordvargr ejaculates their audio semen into the cold electronic womb, and watch in fear as an unnatural sonic offspring mutate, squirms in agony and slowly comes to life.
A unique and extremely disturbing masterpiece of fleshy, cold and perverse avantgarde dark / death electronic soundscape nightmares.
You have NEVER heard anything like this before, and never will again.
CD comes in a deluxe 6 panel digipack with amazing stylish dark and cold avantgarde "semen" design / photography by S.alt / Bombthedot
Click cover to view full digipack design
SOLD OUT