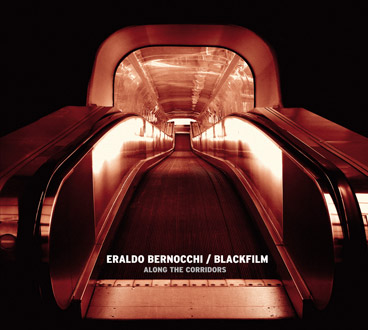 Eraldo Bernocchi / Blackfilm
Along The Corridors
CD digipack / vital 007 / released April 2010
Created and composed by Eraldo Bernocchi and Blackfilm in 2008/2009.
Mixed and mastered by Eraldo Bernocchi @ The Place, Castagneto Carducci, Italy
Do you dare walk along the corridors with Italy's prime dub / heavy electronic music producer Eraldo Bernocchi and one of the UK's finest dubstep / downtempo producers Blackfilm. Along The Corridors will appeal to fans of cinematic dark soundtrack music and to those who need a real dose of sick beats and heavy bass! Bernocchi and Blackfilm are a perfect deadly match and the final result is a dark dubby heavyweight electronic music album...
nightmarish and intoxicating...,
Top notch productions filled with amazing haunting atmosphere and details, combined with heavy brooding beats and bass...must have...
CD comes in a deluxe 6 panel digipack with amazing dark cinematic subway design / photography by S.alt / Bombthedot
Click cover to view full digipack design
€ 15
With Free Worldwide Shipping
PAYMENT PROCESSING:
Payments are processed by PayPal. You do not need a PayPal account to buy from us as you can enter your credit card details to check out.
To order multiple copies please adjust the quantity when you reach the PayPal order form.