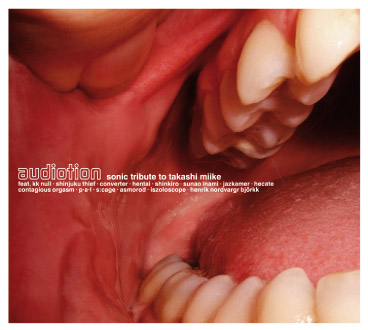 Audiotion
Sonic Tribute to Takashi Miike
2xCD digipack / vital 004 / released January 2007
This release opens with an exclusive audio voice introduction by Takashi Miike recorded for this tribute. Plus an exclusive outro song performed by Japanese movie actor Tokitoshi Shiota (Izo, Gozu, Happiness of the Katakuris, Great Yokai War). Also features booklet foreword by Japanese cinema expert / book author Tom Mes.
These artists pay respect to Japanese master of controversial new wave cinema Takashi Miike. His work inspires so many artists in our music scene, and gives us amazing dark cinematique visions that leads to ideas and audio concepts for creating our sonic art. Each artist has created a unique 10 min. sound piece inspired by Miike's films and visions. All bringing their own styles of electronic music together in this sonic dedication to the Japanese cinema pioneer.
This 2xCD compilation comes in a deluxe 6 panel digipack box with an 8 page booklet - amazing controversial avantgarde design / photography by S.alt / Bombthedot
Click cover to view full digipack design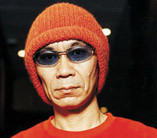 Takashi Miike
Director of Audition, Dead or Alive, Ichi The Killer, Gozu etc...
SOLD OUT